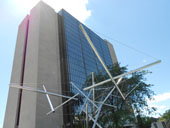 Established by the United States Congress in 1968, the Lister Hill National Center for Biomedical Communications (LHNCBC) furthers biomedicine through data science research and application development. LHNCBC's work is used across the world in biomedical research and by health professionals.
LHNCBC's Applied Clinical Informatics Branch (ACIB) focuses on developing innovative solutions for complex biomedical informatics challenges for researchers, clinicians, and health care professionals. Examples of applications resulting from ACIB's work include:
Medical Text Indexer - uses language-based and machine learning methods to scan MeSH Headings and abstracts for indexing.
LHC FHIR Tools - Tools that assist users in maximizing FHIR data and support standardization.
Malaria Screener - uses machine learning methods then detect whether parasites are present in blood samples, perform the counting, and discriminate between infected and uninfected cells.
LHNCBC's Computational Health Research Branch (CHRB) Conducts research to improve health and health care through methodological advances in clinical informatics. CHRB is part of the National Library of Medicine's Intramural Research Program.
Examples of advances resulting from CHRB's research include: